Good morning!
Our PR Mustangs with their new colour film cameras have managed to get a few obliques to tell us what these V-1 launch sites look like. The Spooks have figured out what each structure is used for, but what really matters to us is what it will take to destroy them. The Germans will most likely rebuild things if we don't obliterate the V-1 storage, servicing and launch facilities. There will also be a few V-1s out and about at each of the sites. Some may be being towed between buildings by trucks, awaiting final calibration immediately to the to west of the pre-launch prep building, or positioning on the launch ramps. They will be at slightly different locations at each site. It goes without saying that these need to be taken out as well.
That being said, the Luftwaffe Flak troops are expected to abandon the site and deploy elsewhere if all the infrastructure is destroyed. So, no point in attacking the flak positions except to suppress their fire.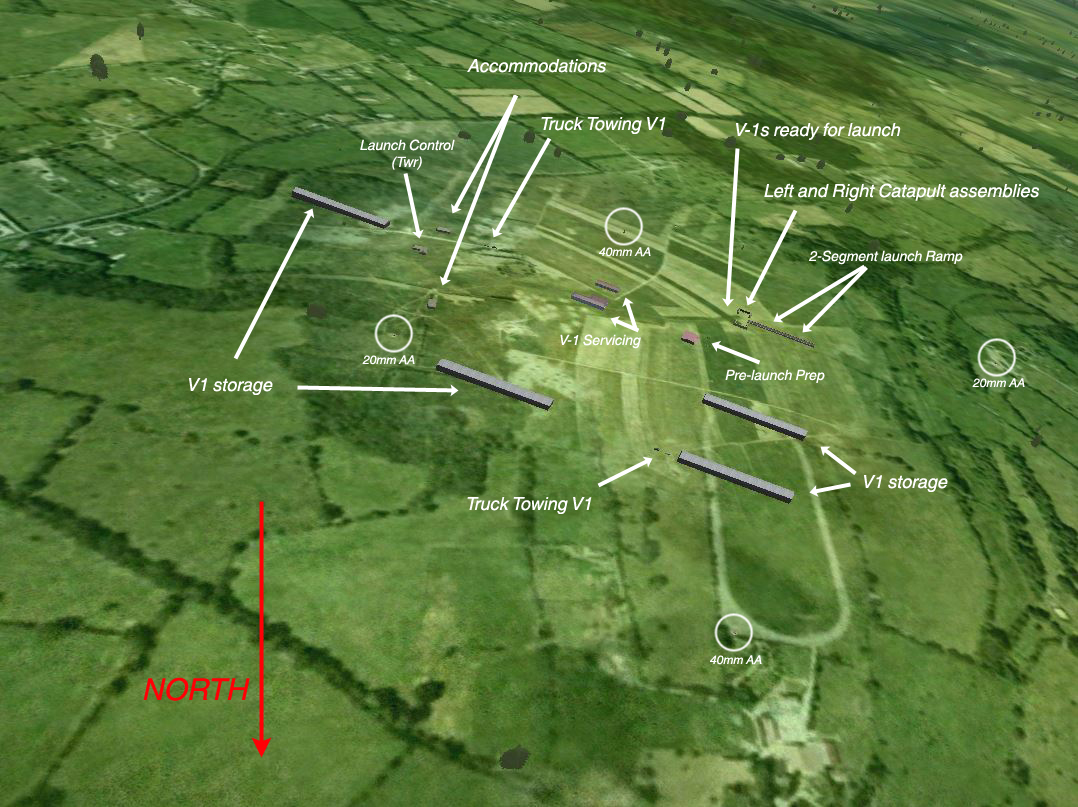 With the exception of the accommodations, the buildings are all concrete and will take quite a bit to knock out. AAA, accommodations, and any vehicles or V-1s out in the open may be successfully strafed, but all the structures are effectively immune to cannon fire.
Each of the storage, servicing and pre-launch prep buildings will need direct hits by at least three 500 lb GP bombs to knock out. The pre-launch building may be a challenge given its relatively small size.
Each segment of the launch ramp (Some clever German engineer named "Jabo" designed them) will require a direct hit from either one 1000 lb GP bomb or two 500 lb GP bombs to destroy.
The launcher catapult assemblies, which look like two revetments on either side of the launch ramp, will each require direct hits from either two 500 lb GP or two 1000 lb GP bombs.
Gentlemen, no area bombing for these attacks. Pin-point accuracy will be required. Your bomb aimers have their work cut out for them.
Good-luck.


Muzz


muzz--


Sqn Ldr
past-CO 417 Sqn RCAF


"Supporting Liberty and Justice"


--------------------------------------


Muzz's Maps