UPDATES IN RED
From
Wikipedia
:
Quote:
The Football War (Spanish: La guerra del fútbol; colloquial: Soccer War), also known as the Hundred Hours' War or 100 Hour War, was a brief military conflict fought between El Salvador and Honduras in 1969. Existing tensions between the two countries coincided with rioting during a 1970 FIFA World Cup qualifier.[1] The war began on 14 July 1969 when the Salvadoran military launched an attack against Honduras. The Organization of American States (OAS) negotiated a cease-fire on the night of 18 July (hence "100 Hour War"), which took full effect on 20 July. Salvadoran troops were withdrawn in early August.
Additional reading on the actual air combat, courtesy of Aeroplane Magazine:
Quote:
The '100-Hour War', as it's known in El Salvador, the 'Guerra del '69' as the Hondurans call it, or the 'Football/Soccer War' to the rest of the world, became a part of aviation history as the last time piston-engined aeroplanes engaged in aerial combat.
HIDDEN HISTORY 'FOOTBALL WAR' PART 1
The Malaysia terrain will be standing-in for Central America. Series will consist of four frames. Each frame will represent a morning or afternoon of flight operations.
Schedule
:
Frame start 2030hrs EST, but log in early to coord comms et al!
Frame 1 – Sunday, 15 Jan 2023
Frame 2 -
Sunday 28 Jan 2023
Frame 3 -
Sunday 26 Feb 2023
Frame 4 -
Sunday 5 Mar 2023
GENSIT:

(Frame 2)
The Salvadoran army is invading Honduras. GV AI routines ( total four routines of eight trucks each) will travel along the road and rail lines from F6/F110 area and head north towards F25. If the Salvadoran AIs reach a field, it will be captured and turn green for the remainder of the series. AI ground speed will be reduced after passing a captured field, precluding capture of F25 in the first frame. Destroyed AI will re-spawn at their point of origin. In subsequent frames AI will spawn at the forward most captured field. The Salvador Air Force, the Fuerza Aérea de El Salvador (FAS), is supporting the ground advance. The better equipped Honduran air Force, Fuerza Aérea Hondureña (FAH) is opposing them.
For Frame 2 results and Frame 3 set-up, see post http://www.squadselectseries.com/s3forum/viewtopic.php?f=1&t=3779

Inflight malaysia.dds map available
HERE
.
Shows radar ranges.
Frame 2 planning map below.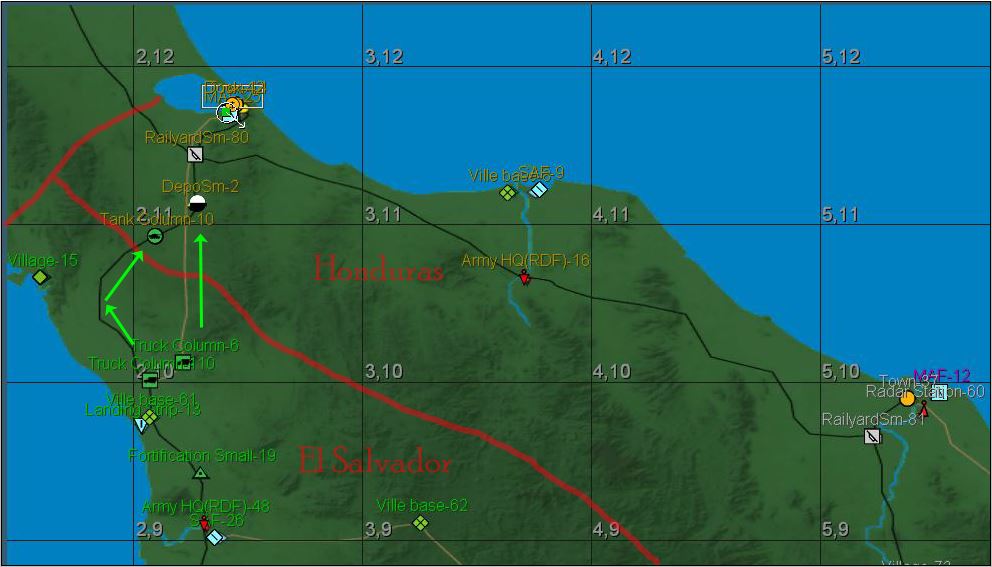 Team Gold will be the FAH, flying F4U-4s from fields 9 and 25.
Team Green will be the FAS, flying F4U-1Ds and P-51Ds from fields 13 and 26. (Team Green pilots must be split roughly 60/30 between the F4U and P-51).
Team Green objectives are to destroy enemy AAA and gun installations to allow the GVs to advance; and to prevent enemy aircraft from destroying the GVs
Team Gold objective is to prevent the GVs from capturing fields, either by preventing destruction of friendly gun installations at the fields or by destroying the GVs themselves.
Scoring (tentative)
Loss of an aircraft for any reason (anything other than a safe landing or DISCO no-damage) scores 1 VP for the other team.
Capture of a field by AI GVs scores 10 VPs.
Side Assignments (TBC pending attendance)
– looking for 50/50 side split
Team Green – 352nd, okdoc-
Team Gold – 4th, 23rd,
RCAF, any additional players
Arena Set-up
Weather – clear
Radar Range – 10 miles for Gold, 20 miles for Green, min alt 100 ft
Icons – S3 standard
Flack – max alt 10,000ft
Rebuild time – S3 standard. All structures rebuild between frames.
Three lives per player
As always, the Janitors reserve the right to amend the set-up or scoring as they deem necessary.
Question, comments to the undersigned.