Frame start 2030hrs EST, Sunday 30 January 2022
Log in early!
GENSIT
: Axis troops are rapidly retreating towards Stevastopol with Soviet Armoured columns close on their heels. The Gneisnenau Line was a hastily thrown-up defensive position centred on the road and rails lines running through Simferopol and extending to the sea. As rapidly as it was occupied by the Axis, it was abandoned for the stronger defences at Stevastopol. A few axis troops and armour were left behind in a delaying action. The Luftwaffe has abandoned almost all its forward airfields and is operating from within the Stevastopol perimeter (F28). Airfield 256 is available for aircraft to land and re-arm, but pilots may not start the frame there. On the VVS side, the Soviet ground advance was too fast to allow the VVS to operate from recently captured axis fields. Airstrip 213 is open, but flight is not enabled there.
Axis(LW) – Gold
Allied (VVS) - Red
Side assignments (see series info post). 13 VRAF should remain on the Soviet side. Depending on 352nd turnout, RCAF may join the axis for side balancing.
Comms - Axis should share the 4th FG channel on the iEN TeamSpeak server. Soviets should share the 352nd's channel.
Terrain
– Crimea. Fields not tactically relevant to a frame will be set neutral or hidden. Airfield 181 will be set purple for initial arena log in.
Weather
– clear.
Time
- 0630hrs local time
Radar
– 5 miles, min altitude 10 feet.
Max Flak Alt
– 30,000ft
Objectives
:
LW – Maul the advancing Soviet columns and protect axis defenders from air attack.
VVS – Destroy Axis troops in defensive positions. Close airfield F257 to further restrict Axis air power.
Download inflight map here.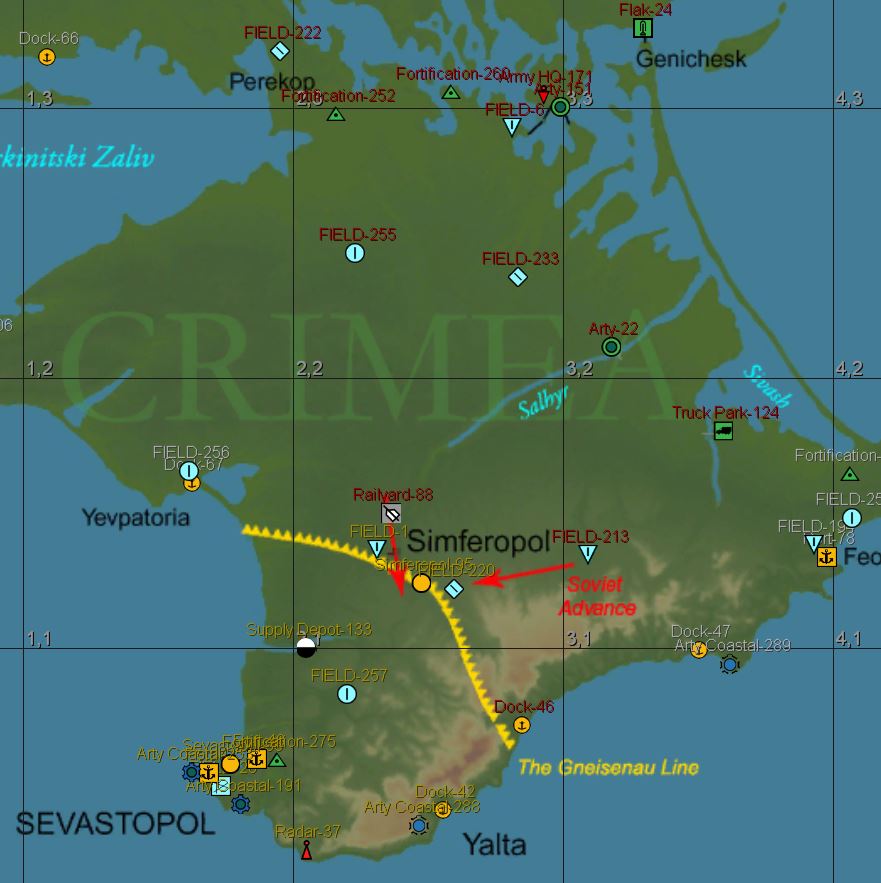 Ground Forces
:
A few Axis troops supported by integral light AAA units are holding a line from Airfield F1, through Simferopol to airfield F220. Two Soviet columns are advancing towards Simferopol (red arrows on map).
Plane Set
. Strike aircraft (Il-2, Ju87D, Ju87G) will have 1 AI wingman and the bomber login will be available.
VVS – Il-2, P-39Q, La-5F, Yak-9D
LW – Bf109G-6, Bf-109G6/RVI (G6 and G6/RVI considered different types for this frame), Fw-190F-8, Ju87D, Ju87G
Aircraft fielding
:
Soviet
F6, F222, F233, F255 - all types
F213 open, but no aircraft enabled there
Should F1 or F220 be captured by AI during the course of the frame, they will be open, but no aircraft will be enabled there.
Axis
F28, F257 - all types.
F257

Axis pilots may not start a life here. Land/rearm only. After losing a life, axis pilots may only re-up from F28
Pilot Lives
. Each pilot has three lives. Two of these lives may be flown in strike aircraft (Il-2, Ju87D, Ju87G), otherwise only one life in each aircraft type. Pilots may fly a maximum of three aircraft types. KIA, bail or ditch in an aircraft type results in loss of access to that type. Pilots may re-fly the same aircraft type if they have not lost a life in that aircraft (e.g. sortie in a La-5F, fly Yak-9D – crash, re-up La-5F).
Teleporting
between fields is not permitted except after a pilot loss of life.
The arena may be open for practice if I am not actively working on the AI routines.
Open for questions, comments. As always, the Janitors reserve the right to adjust/interpret rules as needed.