Light turnouts again.
21 Allied and 10 Axis pilots took to the air.
Repeat of Frame 2 - Allies flew a bit smarter, and still brought the bombs. Significant movement of the front up the east side of the Combat Zone. Axis still dominated air-to-air.
Early in the frame Allied FBs closed Tank F120, but a field capture there was thwarted by the Axis closing Arty F122 late in the frame and severing the Allied supply line to F120. Although Axis closed HQ F116 no line of supply could be traced to an Axis supply point and it remained in-supply to an Allied LZ. It will reopen as Allied in frame 4. Unbeknownst to the Axis, early in the frame the two intrepid members of 13VRAF snuck in behind axis lines and destroyed the bridge spans south of Arty F134 and MAF 136. This cut off all axis fields in the south half of the map. Tank F120 was out of supply and will remain closed at the start of frame 4. Arty F122 was not captured and will reopen as Allied in frame 4 as it was in-supply at the end of frame 3. Italian Engineers will repair the destroyed bridge spans before Frame 4.
Allied buffs and fighter bombers closed HQ 111, Village F112 and Arty F115 in the north west corner of the combat zone. At frame end a supply line could be traced back to LZ F165, so these three fields are ruled captured and will be open for the Allies in frame 4. Note the Janitors ruled that Railyard F117 is "uncloseable" for game purposes.
For field CLOSURES, CAPTURES and destruction of critical infrastructure, Allied scored 81.75 VPs (marginally better than Frame 2) and the Axis scored 28.25 VPs.
Axis airframe losses were slightly lower than in frame 2, losing 11 BF109G6 and 1 Ju87D to all causes.
Allied airframe losses were also lower than in frame 2, but still significant with 36 fighters and 4 B-25s failing to return.
Allies lost 37 pilots KIA/POW and the Axis only 11.
Points awarded for pilots KIA/POW will remain at 1 for the rest of the series.

There were a number of rules infractions requiring the offending pilots to fly penalty planes throughout the next frame.
See post
here.
Frame 3 Scoring
Allied......115.75 VPs
Axis........138.25 VPs
Another minor Axis victory.
Axis extends leads the series 437.25 to 340. Allied will need major victories in both frames four and five.
Scoring summary details are posted at:
here
.
Next frame,
Sunday 6 June 2021
, sees the Commonwealth Air Forces taking on the Regia Aeronautica.
FAER Rules
New planning map posted below and inflight map available at
sicily.dds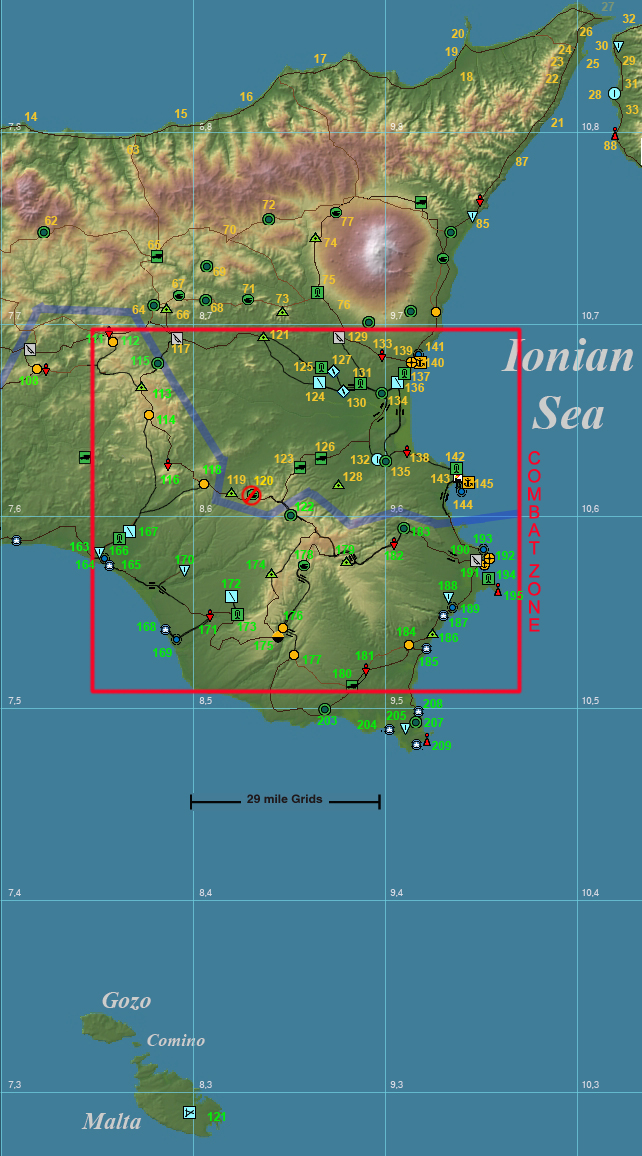 Muzz


muzz--


Sqn Ldr
past-CO 417 Sqn RCAF


"Supporting Liberty and Justice"


--------------------------------------


Muzz's Maps